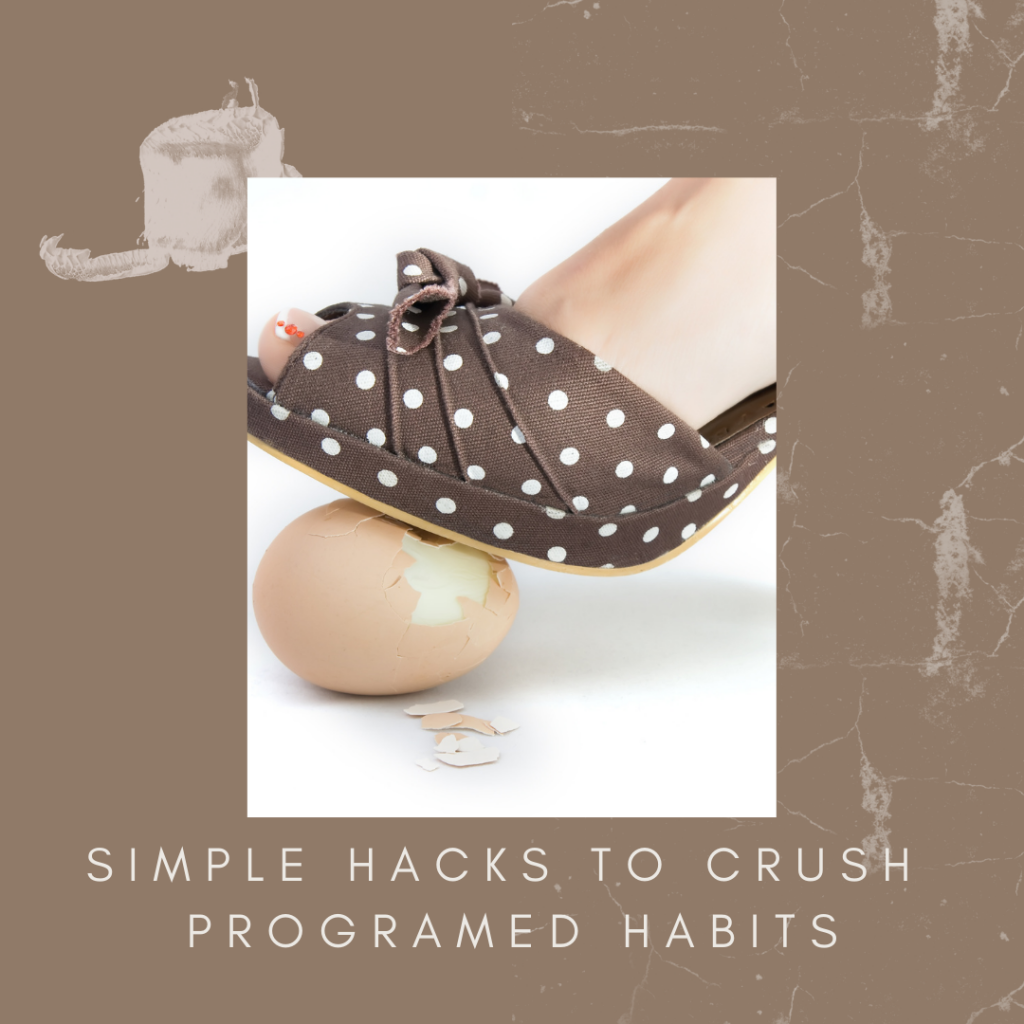 Nearly everyone has a programed habit that they would like to kick. Whether it's drinking less caffeine, to stop biting fingernails, stop overeating or to exercise more, the list goes on and on. One of the reasons we have habits is because the behavior often feels good or serves a purpose. So, the goal of breaking a programmed habit is to retrain the brain into not using the behavior as a reward. First, you'll need to identify the bad habit you want to break and why. Once you start on the path of trying to break your bad habit there are a few simple hacks that can be used to help you along the way.
Reminders are another little hack you can use. Reminders can be used in several ways. You can set an alarm on your phone that rings once or several times a day to help you keep focus. You can enlist the support of a friend or family member to help remind you of your goal. You can use handwritten reminders, such as post-it notes around the house. Some people prefer more discrete reminders, like putting a little mark on their hand, for example, and whenever they see it, they remember the goal they want to achieve.
There are some physical hacks that can be used to break a habit as well. Techniques like tapping have been used with success. Tapping is the practice of tapping your fingertips on specific meridian points on your body. It's generally used as a therapy technique to help with anxiety, fear and achieving one's goals. You can use tapping to help you break a bad habit. One way to do so is, when you feel the urge or the trigger to perform the unwanted behavior, you score your urge on a scale from 1-10. Then, then you start tapping. After you tap for 30 seconds, you score your urge again. In many cases, the urge score has decreased significantly. You can repeat this process until your urge has decreased enough that you are able to move on in that moment without performing the undesired behavior.
Another physical hack used to catch yourself in a bad habit and curb it, is the rubber band method. You can put a semi-loose rubber band around your wrist. When you get the urge to act on a bad habit, you pull the rubber band slightly and let it snap back on your wrist. This technique is not designed to hurt. Its purpose is to remind and distract away from the unwanted behavior.
Breaking habits is not necessarily simple. But, these hacks will help you stay on course along the way, once you decide on your goal of breaking a specific bad habit.
Identify Triggers For Programmed Habits
A trigger is defined as an event that kicks off the automatic urge to complete a habit. People might think of triggers as a major life event. However, that's not necessarily the case as it relates to habits. A trigger can be something so small, you don't even recognize it. But, as small as they can be, identifying the triggers are an important part of changing your habits. Habits are said to form in what's known as a habit loop. A habit loop is a neurological loop that consists of three parts; a trigger, a behavior, and a reward. If breaking a bad habit is your goal, you must first identify the triggers and ultimately try to avoid or negate them.
In order to identify what triggers your programmed habits, you need to make a habit log. Write down all of your activities for a week including the time of day and where you are during the activities. After completing the log for a week, you will need to analyze your habits. Next, decide what bad habit you'd like to change. Now that you understand what habits you have and what habits you want to change, you can begin to identify what triggers the habit.
Identifying the triggers requires a bit of self-reflection. Let's imagine the habit you'd like to change is nail biting. Think about where you were when you logged the times you bit your nails. Is there a commonality? A location could be the trigger, such as driving in the car. Also think about how you were feeling directly before the behavior. For example, were you stressed because you were thinking about work? Most likely, you will be able to find commonalities that led you to the behavior- these are the triggers.
Now that you've identified the triggers, you'll need to decide how to deal with them. Depending on the circumstances, you can either stop the trigger or you can change the behavior that the trigger induced. For instance, say the bad habit you want to break is overuse of checking your phone. You realize you tend to check your phone a lot at night before bedtime. You could get rid of your phone, but that doesn't seem reasonable. Substituting the behavior with something else or changing up your bedtime routine makes more sense, in this case. Changing up your routine might be something like leaving your phone in the kitchen instead of the bedside table overnight. Or you can buy a new book you're interested in and decide to read instead of check emails and social media.
It's said that triggers are the key in existing habits and in forming new ones. If breaking a bad habit is your goal, identifying the triggers is the first step.
The Importance Of Accountability When It Comes To Breaking Programmed Habits
If you are serious about breaking a bad habit, then you will need to embed some accountability for yourself into your plan. Accountability means holding yourself responsible for your behaviors. Being accountable for your choices and behaviors will help you truly rid yourself of the bad habit by reinforcing your commitment to change. There are several things you can do to help you hold yourself accountable. No one said it would be easy. All of these methods require vigorous self-honesty and the intention to follow through.
You can keep a journal. Writing your behaviors down helps hold you responsible for them. You may find that having to write down your behavior may curb the undesired habit because putting it in writing makes it undeniable. Journaling will also help you track your progress toward your goal. You can even build in some rewards for yourself that will keep you motivated.
Enlisting the help of friends or family to hold you accountable will work too. Tell a few of the closest people to you about your commitment to change this behavior. Ask them to either call you, meet with you or text you to help keep you on track. It will help to agree on a set check-in time every day. Your accountability partners will help support you and hold you responsible for the actions you choose.
Find a support group. Support groups exist, depending on the habit you want to break. Being able to be in a group situation where everyone has the same goal as you do is comforting. It helps you know that you're not alone in your commitment to ditching this bad habit. The group helps each other stay accountable and helps reinforce each member's pledge to change.
Staying accountable for your behaviors is an integral part of breaking your programmed habits. As mentioned, change is only possible with true commitment and honesty with yourself. Without honesty, there is no accountability. All of this requires diligence and effort. But, you will eventually find yourself in a better place because of your own hard work. You will be able to say that you improved your quality of life. It will be worth the commitment you put in.
Got programmed habits you want to break?  Make a plan!
CLICK THE IMAGE BELOW