Want to Read More? Set Reading Goals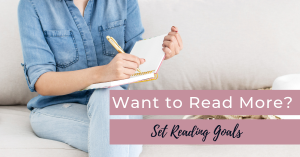 Create a Daily Page Goal
The first way to begin reading more is to set a daily page goal. In the beginning of your journey, start small. It's good to aim for five to ten pages if you don't regularly read as this will get you into the habit of picking up a book daily.
As time goes on, you may find that you want to challenge yourself even more. You might set a new goal to read twenty, thirty, or even fifty pages a day. A good reading goal should stretch you but not overwhelm you.
Choose a Reading Routine
Besides knowing how much you'll read, it can be helpful to know when in the day you'll get your reading in. For example, you might decide that instead of checking your email on your phone in the mornings, you'd rather take those 20 minutes and reading a few pages.
Some people opt to read before bed. But be careful with this approach. It's easy to fall asleep in the middle of your reading and if you prefer to read horror or other disturbing content, the book may negatively impact your sleeping patterns.
Take Advantage of Wait Times
Thanks to the rise of electronic readers, it's easier than ever to carry a book (or five) with you. Pay attention to wait times during your day and use those to get a few pages in rather than mindlessly scrolling social media.
I love to ready thrillers while driving in the car.   Not only do I get more reading in but I'm less stressed about traffic this way.
Keep a TBR Stack
If you're not familiar with the expression, a "TBR" stack or pile is a "to be read" catalog of books you plan to read. You can create a special category for TBR books on your bookshelf or add a few books you can't wait to read onto your tablet in a special folder.
By keeping material around that you're excited to read, you'll look forward to snatching a few minutes here and there. In fact, you may find yourself reading more often and for longer periods of time.
Reading is a wonderful hobby but don't fall into the trap of thinking you need to spend hours on it every day. Even reading for as little as 15 minutes can be a fun and relaxing escape from everyday life.
Related Post  Reading About Creative And Positive Thinkers Is Inspirational
Audio Books Can Revolutionize Your Reading
Audio Books Improve Reading Comprehension
Audiobooks can improve your reading comprehension (or your ability to understand what you're reading) by about 76%. That means you're absorbing more information at a faster rate than you were by simply reading.
In fact, audiobooks can be especially helpful for those who struggle with reading. If you have a learning disorder like dyslexia, then you may spend more time trying to figure out what a page says than absorbing the content of it. This means even though you're trying your best, your brain is busy focusing on the words rather than the topic. Naturally, this can be frustrating since you feel like you don't understand what you read.
Audio Books Make It Easier to Learn
When you have a tough topic to tackle, don't feel like you have to choose between reading the text or listening to an audiobook. Students who listen to the audio first then read the same book are 40% more likely to recall what they've read.
By combining both audio and text, you get the best of both worlds. This can be helpful if you're studying a topic for a college class or preparing to write an in-depth project like a thesis. You'll retain more information and feel more confident after your preparation.
Audio Books Can Come to Life
If you find yourself re-reading the same sentence, again and again, you might be having trouble with imagining the scene. This can make it difficult for you to get into what you're reading and can make recalling it tough, too.
But with audiobooks, the content comes to life. Many audiobooks add in sounds and tracks so it feels like you're in the middle of the scene you're reading. Instead of reading about a crying baby and a lonely train whistle, these sounds might be on the audio creating the feeling you're there.
Related Posts:  Choose Podcasts That Challenge and Motivate You
4 Quick Speed-Reading Tips
The average person reads 200 to 300 words a minute. But those who are experienced with speed-reading can top over 1,000 words a minute without sacrificing their comprehension. This means they can easily read 3-4 pages a minute and still tell you exactly what they read.
So, what are the secrets of speed readers? Here are a few of the best tips you can use to improve your own reading time…
Read One Line at a Time
When you're first starting speed reading, it can be difficult to get use to moving your eyes faster. One way to stay on track and keep moving quickly down the page is to use a business card or index card to spot the current line you're on.
As you move to the next line, just drop the card down a single line. That way you're not looking at the text below the current line. You're just focused on the single line that you're reading.
Choose a Good Reading Spot
Some people struggle with reading quickly simply because they choose bad reading spots. Try to avoid reading in noisy environments or ones with poor lighting. Although you can read in these situations, the distractions make it difficult to achieve top-speed.
If you can't change your environment, try using noise-canceling headphones and adjust the brightness of your screen to prevent eye strain. Doing these two simple things can help you boost your reading speed.
Don't Read in Your Head
Most kids learned to read by "sounding out the words". Then as you grew older, your teacher likely encouraged you to read quietly to yourself. This means you're not just reading, you're speaking the words in your own head.
While it's not a terrible habit, it does slow your reading considerably. Try to break the habit by moving your eyes more quickly. Your brain can process text faster this way and you should still be able to comprehend the words without a problem.
Scan the Page
If you have an overwhelming amount of information to take in and very little time to read it, you can skim the content. Look for the first and last paragraph. Read those first to gather the main ideas.
Then go back and re-read anything that's highlighted, in bold, or italics. If it's decorated to stand out, scan it quickly. When you're done, review what you know and see if you have a general idea. If you still have questions, glance over the passage again. If not, move onto the next section without guilt.
Learning to read quickly is a skill that will serve you well. Although it may temporarily feel difficult, it's like learning to ride a bike. Once you know how to do it, you'll enjoy the "rush" that comes from exercising your new ability.
Related Posts: Never Stop Learning – It Keeps Your Mind Sharp
How to Choose Books You'll Love Reading
When looking for a good book you may be choosing books that you think you're "supposed" to read. Maybe it's an old classic or that literary novel that your snooty book club picked. If you have trouble finding what you really want to read, here are a few ways to find some fun books…
Get Trusted Recommendations
If you have friends who are avid readers and enjoy similar books, ask them to point you in the right direction. They may even pick a few from their bookshelves to loan you depending on which ones you're interested in.
If you don't know anyone that has similar tastes to yours, ask your local librarian. Yep, that's right. Go to an old school library and ask the person behind the desk for their best recommendations. Share what you love and see if they have a few ideas that might appeal to you.
Listen to the Author
When you think you've found a book you'll love, don't jump right in. Instead, pause and look up the author on a podcast or YouTube video. Listen to him or her discuss their book and see if they sound interesting.
If the author is boring in an interview, they usually won't be fascinating on the page either. In these cases, you've saved valuable time and you can move onto the next book in your TBR pile without guilt.
Read a Summary
Sometimes, the best way to learn more about a book is to grab a summary from someone who has read it. Brian Johnson creates summaries of best-selling non-fiction books over at Optimize.me.
If you're reading older literature or have an assignment for work or school, you might try CliffsNotes®. These are lengthy summaries of various textbooks, classics, and other literatures.
Your Favorite Online Stores
If you order books from a website like Amazon or Barnes and Noble, then you already have tons of available recommendations right at your fingertips. To get started, go to the website of your preferred bookseller.
Then type in your favorite book into the search bar. Click on it in the results and scroll down until you see the "Also Bought" or "Customers Who Bought This Item Also Bought". Chances are, you'll find dozens of new books that you'll enjoy reading.
Reading should be an enjoyable adventure. If you're not having fun, it's possible you're not reading books that suit your tastes. Experiment and try reading in different genres than you normally do. You might just discover your next favorite book!