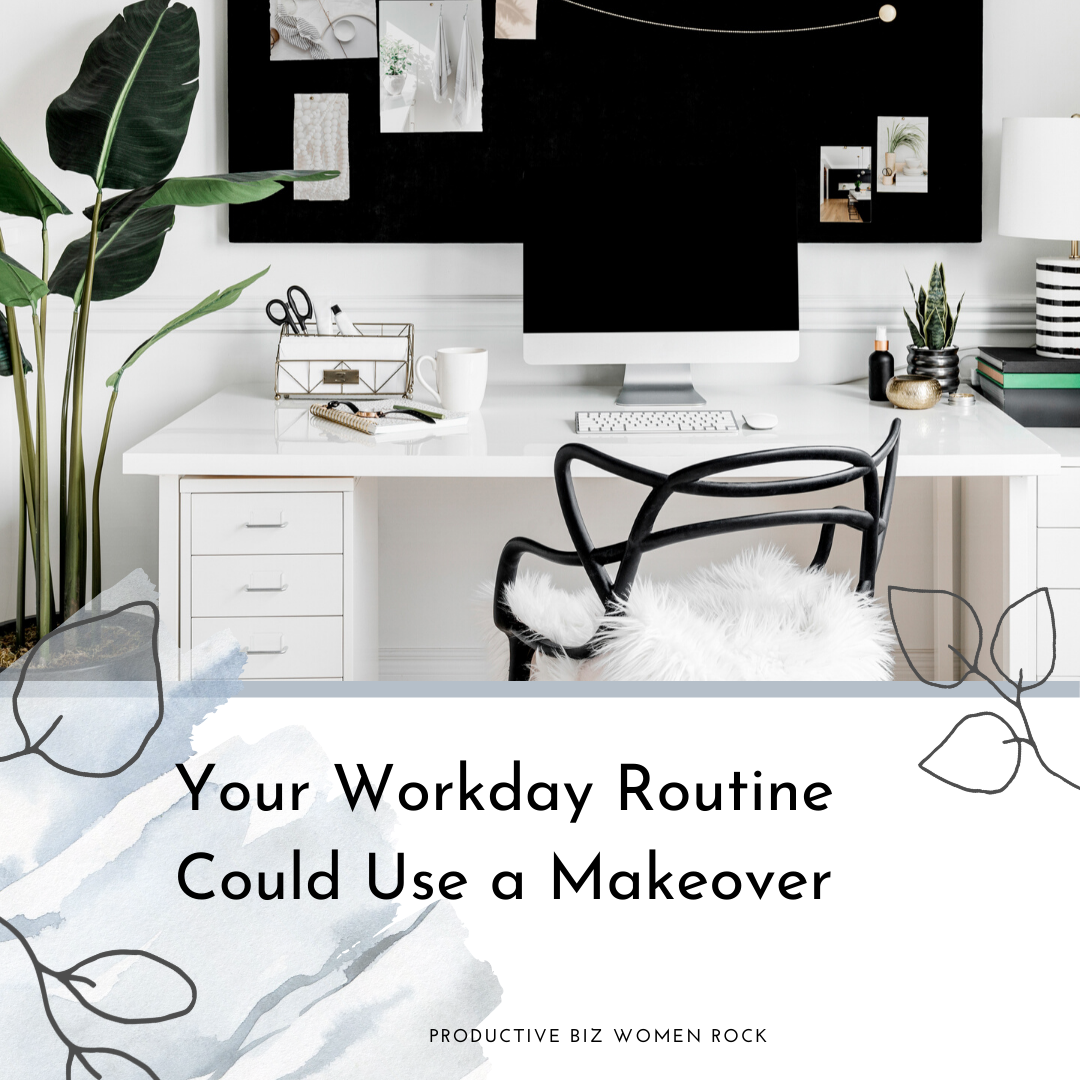 Creating a workday routine is the beginning of an important challenge that will literally change your life for the better. It's all about creating smart routines that truly make a difference in your workday. The fact is, when you do the things that work for successful people, it will work for you too, and you'll also become successful.
Humans are Built for Routines
Starting from infanthood, humans naturally feel comfortable with having a daily routine. We like to eat at similar times, sleep at particular times, and work at certain times. When we have a routine starting from birth, we feel comforted and less anxious. This works for us our entire lives.
You Can Predict Your Day
When you have a daily routine, you can essentially plan your day in a way that makes sense to you and for your business. When you have a schedule, you can also predict your income and expenses better. It makes everything easier to predict which cuts down on anxiety and stress.
You Can Choose the Right Actions
When you plan your day and create routines (that turn into habits), it helps free you up to choose the right things to do each day. The actions you take that you create into routines should make a difference in some aspect of your life and your business. That way, you're not just working in a willy-nilly fashion with no idea if what you're doing is producing results or not.
You're going to be more organized, more productive, and feel as if you have more free time to do the things you really love to do.
To be successful, you're going to need to be willing to look at the way you spend your time each day, what's important to you, and what your goals are not just in your business but also in your personal life to create the types of routines that truly get the results that you desire.
By creating smart workday routines, you'll be able to:
Spend More Time with Your Family
Have More Time with Friends
Determine Which Work is Most Important
Figure Out How to Outsource the Right Tasks
Learn Which Tasks Can be Automated
Get More Done Each Day
Understand What Really Matters
Make More Money
Make no mistake that creating smart routines is a very powerful solution for most people whether they have a business or work at a job. People are creatures of habit and those who recognize that understand that creating healthy habits that replace bad habits will work across every aspect of your life.
If you follow along with this challenge and seek to understand what an effective workday routine looks like while also learning to avoid traps that are inherent in routines – such as complacency, boredom, and missed opportunity – you're going to be amazed at what you can accomplish.
So, without further ado, let's get started. The first thing we're going to do is have a workday routine audit. You may already have a routine, but it may not be that effective, and you may have fallen into habits that aren't productive. We're going to figure it out together because your success matters and smart routines can make life so much better for you.
Do You Have a Workday Routine?
Most of us have routines, even when we're not fully aware of it. Sadly, you may think you're being super productive when in fact you're literally just doing busywork that isn't helping you at all. It's important to analyze how you've created a routine, whether it's beneficial or not, then tweak it to make it more intentional so that you can be more productive.
Write Down Your Day
First, take some time to keep doing things as you are, but take note and write down how you're spending your time each moment of the day. Taking some time, maybe a full work week, to document what you're doing, when you're doing it, and your feelings about how that's working for you will help you make a better routine down the line.
Honesty Matters
If you can't be honest with yourself, it's going to be hard to create a good routine that delivers the success you are hoping to achieve. So try to be brutally honest with yourself as you look through your schedule and ask yourself whether what you're doing is productive, produces a result, or if it's just busy work or wasted time.
Note the Interruptions
As you track what you're doing, also note what's happening in the background. What are others doing? What's on the TV? Is the radio on? Are you being distracted by notifications on your smartphone? Are children trying to get your attention? Whatever else is happening aside from the scheduled work you are supposed to be doing is also important.
How Do You Feel?
One thing that is important is how you feel about your workday. Do you feel hurried, stressed, bothered, guilty, or something else? If you have any negative feelings at all about the systems you've created for yourself, it's okay to throw them out and change things. It may be difficult at first to get used to doing something new – for you, and for your family and friends – but when you craft a life and a routine that is successful, it will pay off in big ways.
It seems crazy, but a good schedule is going to give you more freedom. You're going to feel as if you have more time. You're going to be able to let go of guilt and start focusing on the money-making tasks that enable you to finally create the freedom you thought you would when you embarked on working for yourself.
Finally, after the week is over, it's time to look at your week so you can determine what's working, what's not working, what can be changed, totally thrown out, and how you can start fresh creating a routine that really gets the type of results in your life that you desire. The more intentional you are about your routine, the more it's going to work for you.
Start by Tracking How You Spend Your Time
Let's get even more serious about creating a way to track how you spend your time. You may think that you have it all down, but you probably don't. Most of us get into habits of doing something just because we always have done it that way, not realizing how much time we're really wasting. 
Get a Time Tracker
One way to get down and dirty about your time is to get a time tracker suck as Toggl.com. This is a free time tracking software that will help you learn and understand exactly how you're spending your time. You can also use software like Basecamp.com, or Freshbooks.com, which both come with time tracking software. One thing that's nice about Freshbooks is that you can write in what you are doing with the time you're tracking and keep it right on your desktop.
Track Everything
It helps if you're willing to track everything – whether it's work-related or not. Track everything you do 24 hours a day for 7 days. Note on the things you do whether it was leisure (and if you really had fun or not) or work-related (and if it was productive or not). Also, note whether it was a last-minute thing, planned, or not. This is going to help you when you go back and look to find out how many things were planned versus what wasn't planned. 
Put it in a Spreadsheet
One way to look at this is to put it into a spreadsheet so that you can look at everything, clearly, in a glance. One way to do this is to simply create it based on the days of the week, then color code the activity so you know if it's personal, family, or business related. That will help you see how your day goes. You can even create a color for interruptions or unplanned activities so that you can see when that is happening.
Fill in a Calendar After the Fact
Using the information you collected keeping track, you can also use a calendar that has the times in it that you need to fill in what you've done after the fact. That way you can see it down on paper. The only way to truly figure out what to do to get control of your schedule and create smart routines that get results is to figure out where you are right now based on reality.
When you understand where you are right now with your routine, you'll be able to figure out where you can fix the issues that are going wrong with the routine. You may notice, for example, that during certain times you've set aside to work, there are never-ending interruptions. When you realize that, you can restructure that time so that you aren't interrupted by setting something in place to prevent it, or instead do the tasks that seem more natural during that time that are causing the interruptions. 
Routines aren't supposed to be traps. They should be flexible and easily changed when it's important. And, you should be able to tell when it's a good time to change something and when it's a good time to say no about changing it. If you know down to the last detail how your day is going, then it's going to be easier to add or subtract things to make your day more productive.
Taking Advantage of Deadlines
One thing that really works for people is deadlines. The problem with working for yourself is that often you don't set deadlines unless you're a service provider and your client sets a deadline. But, you should work on taking advantage of deadlines for everything that you do because it's going to help you focus more and force you to work faster and more efficiently when you set a time to be done.
Set Realistic Deadlines
Don't set long deadlines or deadlines that are too short. Be super realistic when you determine how long something is going to take you to do, looking at your schedule for when you'll do the work.
Understand Your Work Flow
Creating a workflow is important so that you can understand the order of operations needed to complete a project or even a task. After all, there are certain things you do even to publish a blog post. It must be outlined, written, edited, optimized, and published. Additionally, images need to be created and actively formatted and put in the system. What order does this happen in and who is responsible?
Know Where Bottlenecks Can Happen
When you set a deadline, you need to understand where bottlenecks can happen so that you can actively avoid them. For example, if you outsource a portion of work that is holding up other work, make sure you get it to the person in time to enable you to work on your portion when you schedule it.
Remember Parkinson's Law
Remember we talked about this earlier in the challenge? This law states that work expands to fit the time you have to do it. Therefore, the shorter you set deadlines, the better for your productivity.
Set Daily, Weekly, Monthly, Quarterly, & Yearly Deadlines
Deadlines aren't just for deliverables, deadlines are great to remind you of where you are within the workflow. For example, you may have a deadline for creating an outline, then another deadline for getting the writing done on a given blog post.
Deadlines Break Up the Work
Having deadlines for all sorts of things throughout the day is going to help you focus better. Because let's say you have a blog post about a certain topic you've set a deadline for in six weeks. If you don't have periodic deadlines for various aspects of the post, when are you going to work on it? Probably the due date. That means it won't be the best work you can do, and you may not meet your deadline.
When you set deadlines throughout your day, you'll feel even more accomplished and be even more motivated to keep going. When you can see the results of your work at the end of the day then tomorrow will be a day you look forward to because you're being so productive.
Tips for Staying Motivated During Your Workday
It's important to stay motivated during your workday because that's what's going to push you forward and make you more productive. If you feel tired, bored, or even hungry during your work day, you're just not going to be motivated to get things done.
Sleep Well
Working all the time might feel as if you're being productive, but there is a huge difference between being productive and being busy. When you find the time to sleep each evening without worry or stress interfering, you're going to be more motivated the next day due to being well rested.
Exercise
If your work is sedentary, you must find time each day to get moving and exercise. If you have a physical hard business, then you may want to find time in the day to get a massage instead. The point is to take care of your physical body in the way it needs to be taken care of.
Eat Right
Like sleeping and exercising, if you don't eat the right food for your body's needs, you're going to be tired and unmotivated. You may experience brain fog, tiredness, and other symptoms. Take the time to eat right and you'll find that you feel much more motivated every single day.
Spend Time with Your Family & Friends
Everyone needs friends and family. Emotionally if you don't satisfy that need for personal time with your friends and family, it will be hard to remember why you're doing what you're doing. Remember, you can combine exercise, eating, and social activity.
Develop a Daily To-Do List
Create a to-do list for each day based on the deliverables that you must produce at the end of any period. So, for example, if in six weeks you have some form of deliverable due, you're going to go back six weeks to start adding different parts of the work to your schedule each day so that it's not all done in one day.
Break Up Large Projects
When you have large projects due, break them down. If you're writing a book, for example, you don't write the book only. You must outline it, develop characters, organize it, and more. Schedule these things, working backward from the due date.
Create a Schedule with Deadlines
Don't leave anything open-ended. If you want to be organized, everything needs a deadline. For example, for your business, you need to close out your books each month. If you don't, you'll have to work harder next month or quarter, or worse, at tax time. Keep it going and organized with daily due dates for everything you do.
Take Breaks
Work in breaks to your schedule. We discussed the Pomodoro method and one reason this works is the built-in breaks and the forced focus you give each 25 minutes of active working time.
Keep Your Work Area Organized
Every evening when you're done with work, take the extra time to organize your workspace, including your schedule for tomorrow. That way when you are ready to work the next day, it's all there for you.
When you focus on being productive, getting things done that make a difference, as well as making time for your personal life by taking care of yourself and spending time with loved ones, it makes a huge difference on your level of motivation. If you cannot see the end of the day as successful then that's going to affect your motivation. Make sure you can point to at least three things that you did on any given day that was productive.
If you'd like to get your life and your workday more organized download this planner to organize your life.