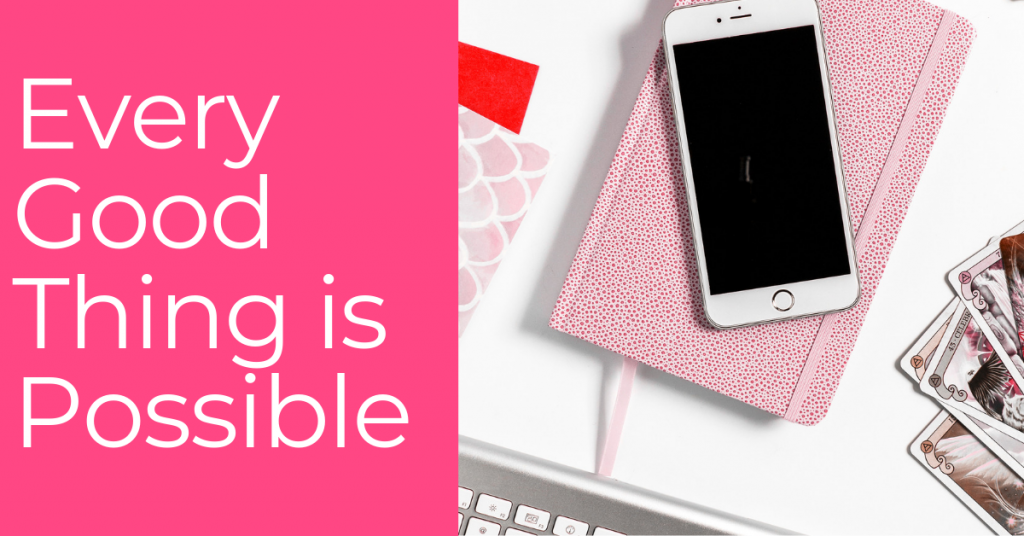 What we believe, we'll try to create.  If you're not trying to create EVERY GOOD THING POSSIBLE, you don't believe you can.
Your blog growth depends on what you think is possible.
Here's my guess: You know your thoughts and beliefs about life and business are holding you back.  Likely, it's true in other areas. Your thoughts about success and money are tilted towards guilt.  Your deep personal beliefs about people and relationships may be steeped in mistrust.
Some beliefs are hidden below the surface of thought, hard to put a finger on – yet having a pervasive impact.
Here's good news:  You know something isn't working for you.  Being aware is the beautiful beginning.
You can adopt new thoughts and cultivate new beliefs
Are These Lies Crushing Your Blog Growth?
Your most important business asset isn't your website or your products. It's not your name or your Facebook fan page. Your most important business asset is your mindset. When you have the right mindset, you can crush any obstacle in your path so that you can build a life and business you love.
Get ready to discover six mindset traps that are holding you back from growing your blog and reaching the next level of success. You can move forward when you defeat these lies by embracing a success mindset.
Lie #1: There isn't enough time.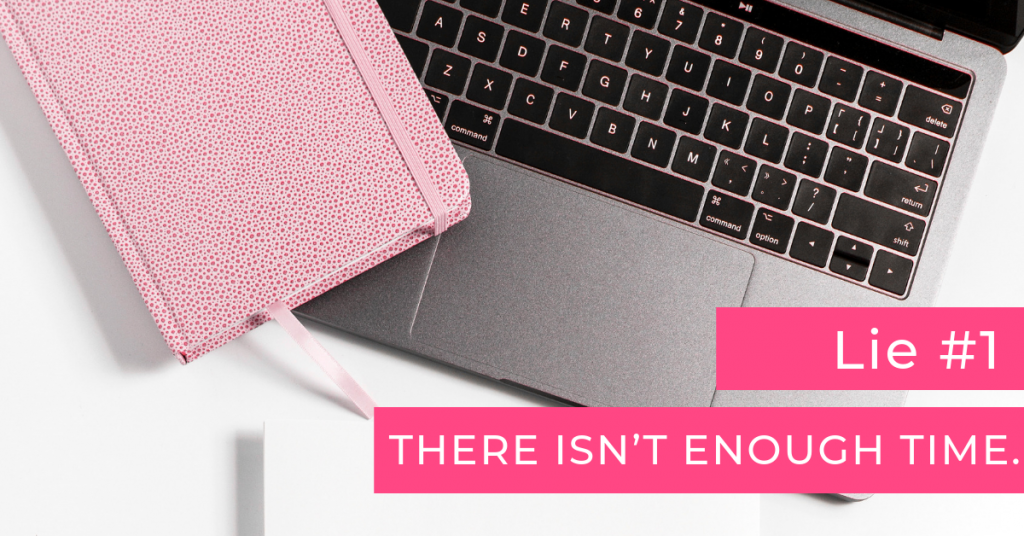 One of the biggest blog growth lies that keep you stuck and prevents you from growing your dream blogging business is the belief that you don't have enough time. This one is easy to justify. You can point out all the ways that you're too busy. You coach Little League. You work two jobs. You're on twelve committees. You have a loved one with special needs.
You tell yourself these things and pretty soon, you start to believe them. So instead of looking for small pockets of time to work on your business, you keep saying that you can't. You believe you don't have time so you're not looking for it.
The Problem with Reactive Time Management
Business owners struggle with a lack of time because they practice reactive time management. You wake up in the morning and you have your to-do list neatly planned out.
But before you start your work, you pause to check your email or social media. There's an in-depth question in your Facebook group that needs to be answered. There's an email from a potential client that wants to talk about your prices. There's a message from a fellow business owner that's interested in trying a joint venture with you.
You answer all of these messages and look up to realize that it's lunchtime and nothing on your to-do list has been accomplished. You wonder where you went wrong and why you can't seem to accomplish anything.
It can be helpful to think of a ship captain. He charts a course for his destination and he follows it through. If he stopped at every single port along the way, he'd never reach his destination on time.
Instead of sticking to your original plan, you deviated because you were practicing reactive time management. You let the seemingly urgent tasks overshadow the ones that were the most important. That's why you should watch out for reactive time management if you'd like to level up your business.
Time Management & Productivity Aren't the Same Thing
Most people who say they lack the time to grow their business don't understand the difference between time management and productivity. You can buy dozens of day planners. You can carefully account for what you're doing every hour of every day.
But unless you're completing tasks that move you closer to accomplishing your goals, then you're not being productive. You're just being busy.
It's the equivalent to saying you're going to walk to California then stepping onto a treadmill. Yes, you're moving. But you're not any closer to California than when you started. You have to be willing to jump off the treadmill of busy if you're serious about building your business and crushing your limits.
The 'Free Time' Myth
When you think you don't have the time to grow your business, you inevitably use the phrase "free time". You can market to new clients and create that product you want to sell next month during your free time. Or you tell yourself that you'll launch your coaching services when you retire and have free time.
Imagine if Da Vinci had said he would paint the Mona Lisa in his free time or if Thomas Edison had decided to work on the light bulb when he had a comfortable nest egg and could afford to retire. Both of these men created works that still benefit humanity hundreds of years later and they didn't wait for free time before they created their masterpieces.
The problem with thinking that there's such a thing as "free time" is it gives you a false sense of security. But the truth is that you have 24 hours in each day. The good news is that's exactly how many hours that Da Vinci and Thomas Edison had, too.
Lie #2: There isn't enough money.
Business people struggle with limiting beliefs about money that keep them from growing their online businesses. You may believe that money is a limited resource that must be carefully guarded.  You may think that you're unworthy of money or you may believe that money only comes through hard work. You may even believe that money is the root of all evil.
 Why Money Isn't a Limited Resource
Money isn't just paper and coins. It represents the value we place on an object or experience. For example, your laptop just quit working. You had backups of your work but you have a huge project that's done in less than two days. So you go to the store and you find a laptop you like. You pay the price with money and you get your project turned in on time.
Now, a second customer comes in the store. He sees the exact same laptop and he tries it out. Like you, he sees the price of the laptop but decides that he doesn't want to pay that price and he leaves the store.
The cost of the laptop didn't change between customers. The difference was that you placed a higher value on the laptop than the other customer. This made you willing to part with your money in order to own it.
Money isn't a limited resource because there is an infinite number of ways that you can provide value. This means that the goal of your online business shouldn't be just about making money but about giving value to your customers. When you focus on value, the money naturally follows.
Your Blog Growth Is Stagnant Because You Believe You're Not Unworthy of Money
Some people feel unworthy of money. This feeling of unworthiness might be caused by the fact that you had your needs neglected somewhere in your life. It might be caused because of low self-esteem or you may simply think that you're just not good enough to succeed with your business.
Whatever the reason, you have to understand that money cannot give you worth and it cannot take away your worth. You are more than the number in your bank account. Only when you understand this can you begin to overcome this limiting belief.
Money Can't Be Easy
This lie keeps many stuck and struggling. You think that if a task doesn't require Herculean effort, then it's not worth pursuing. But this means that you're overlooking easy ways to make extra money in your business.
Not every product you release has to be an incredibly detailed 10 module course that walks participants through every step. It's fine to release a short video e-course and add to it later down the road.
Your clients and customers don't care about how much work you did or didn't do on a product behind the scenes. All they care about is that your product or service adds value to their life, so don't be afraid to look for simple ways to make money.
Money Isn't Evil
You may have heard the phrase that money is the root of evil. But the actual quote is that the love of money is evil because then your life is out of balance. It's only a problem when you love money so much that you neglect your family or hurt others to get it.
Money is simply a tool that allows you to take care of yourself, provide for your family, and make the world a better place.
You wouldn't try to plant a garden without first getting some tools. It's the same way in business. If you want to succeed and harvest financial success, then you have to be willing to use the right tools and one of those tools is money.
Lie #3: There aren't enough people.
The belief that there aren't enough people can keep you from growing your business. You play small because you believe your niche is small. This keeps you and your business stuck at your current level. You can't see new opportunities or create new products because you're worried that you can only have one piece of the pie.
But the truth is that the pie is much bigger than you think. Every day, new people join your niche. They need guidance and advice. They want to know how to get the results they crave quickly and easily. They're looking for a leader and they need someone to step up. The question is, will you be that someone?
Leading in a Small Niche
Being part of a small niche isn't a disadvantage. It's actually a huge advantage. With less competition, you can position yourself as a leader. You'll stand out and find it easier to brand your business.
New entrepreneurs think that leading your niche means you have to have all the answers or that you can never make a mistake. But leading your niche is just about serving your audience.
If you don't have the answer to a question or you make a mistake, don't panic. Your audience won't hold it against you and they will like you even more because you showed that you're human, too.
Building a Community
Another advantage of working in a small niche is that you can build a community around your brand. It doesn't matter what software you use or which social media platform you use to grow your community.
The important thing is that you protect and encourage your community. You want to make your group a safe place where newbies and experts alike feel comfortable sharing their journey with you. As your community grows, the members will start building relationships with each other and this bond will make your group even stronger.
Learning what Your Community Needs
When you're in the middle of a small niche, you can usually spot the needs of your audience. It might be that your community is looking for a product to fix a common problem. It might be that they need a walkthrough course to show them exactly what steps to take.
If the need is already being filled by another leader, you can look at that product to see what's missing.
You might discover that you can create a complimentary product that your community will love. You can promote your complimentary product or service and the other product using an affiliate link. This lets you help your community even more while still looking like a leader in your niche.
Being Adaptable
Keep in mind that catering to a small niche also allows you to stay nimble. This means if there's a sudden change in your industry, you can respond to it quickly and easily. It also means that you can change direction with your products if you notice your community needs or wants something different than what you're currently offering.
Don't fall victim to the lie that there aren't enough people in your niche. There are plenty of customers to go around and if you provide them with real value, they'll be willing to pay for your product or service.
Lie #4: There are too many people.
This is a lie keeps people playing small. Your blog growth won't expand if you don't launch your blog or product into a niche because you're afraid that everything's already been said and that there are no new customers to market to.
What you have to understand is that no niche is too saturated. Sure, some niches are harder to break into than others. But that doesn't mean that it's impossible to build a brand and earn some nice profits.
Customers like a choice.
The problem with thinking that a niche is too saturated is that customers don't just buy one thing. For example, hamburgers are sold at a variety of fast food locations. Most customers don't eat exclusively at one fast food restaurant. If they're hungry and the place is close by, there's a good chance they'll be purchase food there.
All you have to do is focus on being in the right location when a customer is ready to make a purchase. That might mean offering a sweet deal on your dieting e-book at the beginning of the year or launching your financial software right at the beginning of tax season. But don't think just because a customer buys someone else's e-book or software that they won't buy yours, too.
It's not uncommon for customers to own multiple books on dieting or many different types of software. Sometimes, customers buy extra because they want to share with friends or family. Sometimes, they just want to examine all of their options before committing to a plan of action.
Competitors can become friends.
Despite the cutthroat nature of business that some movies and TV shows portray, the fact is that competition is a good thing and most of your competitors know that. It's not uncommon for an entrepreneur to promote the products and services of another brand.
Promoting each other means affiliate sales. You get "thank you" money from competitors when sharing their products with your community. Of course, you should always review a new product carefully to make sure it's right for your followers and fans. But if it is, then you can have plenty of fun promoting each other.
Competition is good for the industry.
Competition is not a dirty word and it's actually good for the whole industry. Think of the major movie rental company called Blockbuster. You could rent VHS and DVDs from their stores for just a few dollars.
Other companies could have said that Blockbuster had the market cornered and there was nothing new to sell or promote. But a few brave companies like Redbox and Netflix entered the game. Suddenly, renting movies was easier and these two brands were profiting thanks to their willingness to enter the movie niche and do things differently.
Competition can challenge you.
Another advantage of working in a crowded niche is that it can challenge you to create better products and services. When you see other solopreneurs and small business owners launching amazing products and promoting exciting services, you'll feel energized, too.
By seeing what others are doing, you'll be less likely to shrink back and play small. It also can provide insight if you pay attention to which product launches are successful and which ones aren't.
You might learn that your customers prefer a certain tone on your sales page or you might discover that they prefer video only products. Jot down what you learn in a file so you can review it later when you're working on your own projects.
Just because a niche is saturated, it doesn't mean that you can't join in. You will have to work harder to make sure your brand stands out but if you're willing to do that, then there's no reason that you shouldn't go for it.
Lie #5: I Can't Grow My Blog Because Nobody wants to learn from me.
Whether you're just starting your online business journey or you've been earning money online for decades, there's one lie that can derail you easily. It's the "nobody wants to learn from me" lie and it makes you doubt yourself.
You may think that you have nothing interesting to offer or you may worry that you're not as professional or as qualified as other business owners. So you let this lie beat you down and keep you from helping the people in your community or niche. As a result, your business stagnates and you wonder what to do next.
Know your teaching style.
Knowing your own teaching style helps you connect with the right community and not fret about the people you're never going to resonate with.
Think of Richard Simmons and Jillian Michaels. Both trainers help people lose weight and get fit, but they have very different teaching styles. Richard Simmons provides his community with gentle encouragement and nudges them to their goals. Jillian Michaels takes a tough-love approach and prods her community toward success.
What these trainers do have in common is that they both know their teaching style. Richard doesn't pretend to be a tough-love coach. It's not what his community wants and it isn't what he offers. By embracing his unique style, Richard found the community that needed his guidance just like Jillian found the one that needed hers.
Be authentic.
When you're worried that no one wants to learn from you, it's tempting to use someone else's style. So you decide to be bubbly like one blogger you know even though you're not bubbly or you decide to be an aggressive marketer even though you personally hate that style of marketing.
The problem with this approach is you're not being authentic and your community can sense it. When your community doesn't believe you, they're not going to buy from you or promote your products to their friends and family. They don't trust you.
If you're not authentic, you might just attract affiliates and fans you don't actually enjoy serving. When this happens, your brand is likely to fail. It's far better to be authentic and build your brand slowly than it is to build a community that you dread helping.
Personalize your brand.
Customers like doing business with solopreneurs and brands that feel like friends. It can be hard to build a community when you make your content and products too sterile.
It's important that you share little details of your life with your audience. This makes it easier for them to learn from you. For example, if you're launching a product about getting out of debt then mention how as a single mom you had to use credit cards to get by and how long it took you to pay them off.
This type of sharing builds trust and shows the heart behind your brand. However, don't go extreme with this. If you overshare on details, your community may think that you're not professional enough to help them with their problems.
When you're not getting any traction from all of your marketing efforts, don't think that it's because no one wants to learn from you. That's rarely the true cause of the problem. It masks the deeper issue.
Once you dig down and discover what the real issue is, you can work to fix it. In the meantime, don't let this lie crush your business and keep you from leveling up.
Lie #6: I don't have enough experience or education.
New business owners can sometimes struggle with feeling like they don't have enough experience or education to serve their community.
But this lie is not as much of an obstacle as you may think it is. There can actually be advantages to not having as much experience or education as other leaders in your niche. You can overcome this belief when you understand these three reasons that experience and education don't matter.
No jargon = no barriers
Many of your long-standing competitors use industry jargon on their blogs, in their products, and with their communities. You may think all of this industry language makes them look smart and educated.
What you don't know is that many people new to your niche feel intimidated by all of the terms they don't know. As a result, they become frustrated and never reach out for an explanation.
Now when these same users visit your site, they sigh in relief to discover you use everyday language. On the rare moments that you do decide to use common industry terms, you make sure to provide a clear definition right next to the word so users aren't confused. These visitors are now more willing to buy from and support your brand because they feel comfortable that you'll provide information that's newbie-friendly.
A cup of water
A new visitor asks one of your competitors a question that seems simple. But before they know it, they're overloaded with information and facts. They're overwhelmed and now they don't know what to do. They're paralyzed by indecision and confused.
Some people compare the experience of asking an expert for an answer and receiving too much information in response to trying to take a sip of water from a fire hose. There's no way to get a tiny sip without getting completely drenched.
That's where you can come in. Newbies to your industry need someone to help them sort through all of the information. You can be that person. You can offer them a cup of water by providing short, quick answers that are easy to understand.
Share your journey
You don't have to be an expert in your field before you begin sharing your journey. There are plenty of bloggers who went online and talked about what their goals were and what they were learning along the way as they worked toward those goals.
Many of these newcomers took the time to share the good, the bad, and the ugly. As a result, they attracted a community of like-minded people who wanted to journey with them. You can build a blog or brand in almost every niche including weight loss, dating, paying off debt, and more.
This is a simple method of getting started that doesn't rely on you being an expert right now. Present yourself as a student of your niche. Besides creating a community, this also gives you an idea of products or services that your followers may want to buy from you in the future.
Experience and education may feel like roadblocks on your way to crushing your business limits. But keep in mind there are plenty of ways around these roadblocks that don't involve you spending years getting more experience or education.
Closing Thoughts
Your mindset is the key to breaking through and crushing it with your business.
Just shining a light on these common misconceptions will have an impact on you.  Just wait, the next time one of these lies try to grab you – you'll recognize it for what it is and be quicker to move on.
This is what adjusting your mindset is all about.  Letting go of the stuff that doesn't work for you begins with simple awareness.
Next, you begin to take on new thoughts – new goals and dreams.  It happens naturally.
When you let go of a lie, you come closer to the truth.  (That you can do so much more than you ever imagined!)
While you're Here Grab Your Free Organize My Life Planner